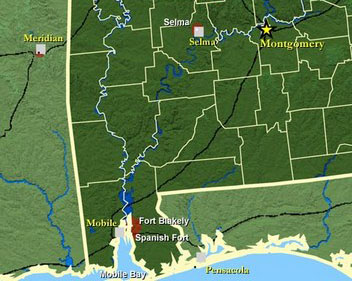 On April 9, 1865, Mobile, Ala., was the scene of the last significant fighting of the Civil War. As a primer for my soon to be published book, I will be making a series of posts about the Union's Mobile Campaign, which the 11th Wisconsin Regiment took part in.
After his successful Vicksburg Campaign in 1863, Maj. Gen. Ulysses S. Grant, along with William T. Sherman, wanted to take Mobile, Alabama. The navy also wanted to knock out the port city as it was a hotbed for blockade running.
But events in Mexico would unfortunately turn Lincoln and his administration's attention further west to Texas. After the fall of Mexico to Napoleon III, and word that the French emperor was considering a possible annexation of Texas, Lincoln deemed Texas to be a priority.
This led to Maj. Gen. Nathaniel P. Banks dismal Red River Expedition in April/May of 1864; a campaign that was doomed to fail. For one, Banks was an overly cautious and plodding general who did not enjoy the trust of his men, as Grant had.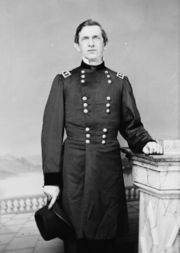 The Red River disaster along with Lieutenant General James Longstreet's presence in eastern Tennessee, all but killed Grant's much desired "pincer" move from Mobile and Chattanooga.   Had Grant been able to maneuver an assault from  Chattanooga while Banks attacked at Mobile, the closing in on the South from Tennessee and Alabama might have made Sherman's "March to the Sea" look like child's play.
But it was not to be. Instead, after numerous delays and incompetence on the part of Gen. Edward S. Canby (who replaced Banks in Louisiana), Union troops would make their assault on the port city when the war was essentially over.
Canby was indecisive, cautious, and would allow an entire garrison to escape right from under him during his Mobile Campaign.  The result would be a hasty assault on Fort Blakely (to save face) at 5:30 PM on April 9, 1865. An assault that did nothing more than cost the lives of many, and ignite a racial conflict that would haunt Mobile for yeas to come.
Up next Part II…