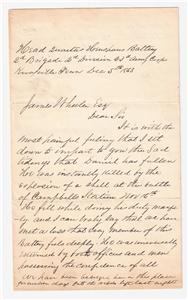 I haven't seen a lot of these, and of the few I have, this one is a fairly representative one. I am not aware of the practice of writing KIA letters as a prominent occurrence, especially by the year 1863. It's interesting how with just minor changes, this could have been a letter written during WW2 or any other 20th Century war. This letter represents the "Good Death" KIA correspondence. Not uncommon, especially with WW2 and Vietnam.
Regardless of fact, each letter sent home to loved ones regarding the death of a comrade, always involved the establishment of associating death with "quick" and "painless," and "noble" or "heroic."
This letter written by Melvin B Ross, a lieutenant in Henshaw's light artillery to James Wheeler notifying him that his son Daniel Wheeler was killed in action. Wheeler, a resident of Freedom Illinois, was one of two members of Henshaw's light artillery who was killed at the battle of Campbell's Station, Tennessee on November 16, 1863:
Headquarters
Henshaw's Battery 2nd Brigade
2nd Division
23d Army Corps
Knoxville , Tenn

Dec. 5th 1863.
James Wheeler Esq.

Dear Sir,
It is with most painful feeling that I sit down to impart to you the sad tidengs that Daniel has fallen. He was instantly killed by the explosion of a shell at the battle of Campbell's Station Nov 16th. He fell while doing his duty manfully and I can truly say that we have met a loss that every member of this battery feels deeply. He was universally esteemed by both officers and men possessing the confidence of all. We have been besieged here in this place for nineteen days but the rebels left last night. The mailman is at my door now so I have time to write no more. Yours Truly, M.B. Ross.