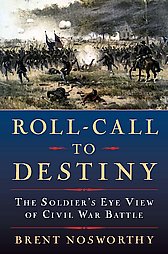 Roll Call to Destiny: The Soldier's Eye View of Civil War Battles, Brent Nosworthy, Basic Books Inc., 336pp. $27.95. Release Date: March 2008.
My introduction to Mr. Nosworthy was his astonishing The Bloody Crucible, a tour de force on all things military during the Civil War. A book that I still refer to time and again. I am no military expert and have to rely on experts like Nosworthy.
However, not only is he knowledgeable, but I found his writing style easy to read. So these things led me to purchasing his latest book, Roll Call to Destiny: The Soldier's Eye View of Civil War Battles.
In this book, which is a kind of continuation of The Bloody Crucible, Nosworthy attempts to bring us not just the tactical developments of battle, but "what the men saw, heard, and felt at each stage of the action…"
Nosworthy focuses on several units, one at a time, and all involved in different battles. He examines both sides of an engagement in detail, and with a good balance between infantry, cavalry and artillery engagements. Amongst the battles covered are First Bull Run, Fair Oaks, Fredericksburg, Gettysburg and Missionary Ridge, each of which has been studied in great detail.
Though I enjoyed the book, and the attempt to give us the "soldier's eye view," I never felt that this very lofty goal was ever achieved. Does that make the book not worth the time, no, of course not, it's a very a good book with lots to offer.
I wanted a little more from the soldier's point of view, and though Nosworthy succeeds to a degree, I perhaps wanted more than could be delivered.