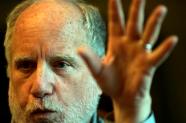 From this news article:
NORFOLK, Va. (AP) — Of all the causes actors have chosen to champion, Richard Dreyfuss admits his passion lacks, well, a certain pizazz: Civics.

"Don't call it 'civics' because 'civics' is easily the most boring word in America," Dreyfuss says. "Call it what it is: political power."

Dreyfuss brings an actor's dramatic pacing and a historian's licks to his cause, erasing any notion that this lesson will be boring. He's bombastic, predictably brash and yet professorial during a 90-minute interview in a bland hotel suite in this seaport, where he was honored at a film festival earlier this year.

Kicked out of college for confronting a professor who criticized Marlon Brando's performance in "Julius Caesar," Dreyfuss recently studied at St. Antony's College at the University of Oxford to develop a curriculum for U.S. public schools.

Called The Dreyfuss Initiative, the curriculum would use scholarly presentations in videos and the Oscar-winning actor "as a storyteller, to engage, enlighten and empower students of all ages in an entertaining way," according to an outline. Dreyfuss said he would work with civic and educational groups to promote the teaching tools.

While the program has not been used in any classroom yet, Dreyfuss has launched a fundraising campaign to produce videos and the curriculum.
I applaud what Mr. Dreyfuss is attempting to do and welcome it. We have seen, heard, and read much from, well, Liberal Hollywood and media types for years and for a non-Liberal to step forward and promote education and a return to American core values, I love it.
To quote Dreyfuss, "I believe that America is a miracle…" Amen. Though today you would not know it by listening to many among us and who lead us.
Is he a bit misguided? I'm not sure. Naive? Absolutely. But nonetheless, good show Mr. Dreyfuss I hope your initiative takes off!