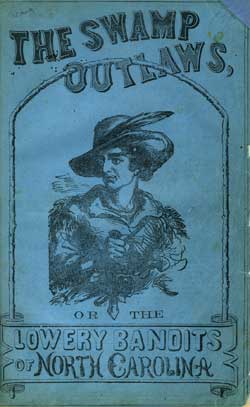 I got a chance tonight to catch a re-airing of the History Channel's Aftershock: Beyond The Civil War. Though I enjoyed the documentary and as far as I can tell it did an excellent job establishing the general mood and conditions of the South and the state of continued violence that ravaged blacks, whites, and Indians, it did so by sensationalizing, and in at least one instance, flat out misrepresentation.
In a small region of North Carolina, a group of Indians and former slaves become bandits dedicated at first to steal from wealthy white plantation owners. The group was lead by Henry Berry Lowry, who became a legend and to this day is idealized as a kind of Robin Hood. According to the History Channel, Lowry was a freedom fighter who was inspired to wage war because of the brutal execution of his father and brother by KKK and Home Guard members out to intimidate innocent law abiding people. And though they were executed, it did not happen as dramatized by HC and nor were the actual circumstances even mentioned. In the scene depicted in the documentary, a group of Home Guard Southerns show up with rifles loaded, take aim at the helpless pair standing along a lonesome road, and fire away in a brutal scene of white racism and terror – which indeed happened time and again in the South during Reconstruction. However, this is not how this particular incident happened. Here is what really happened:
"On March 3, 1865, Allen Lowry and his son William were tried in a hastily organized sham court, declared guilty of theft, and executed in Robeson County. While William was almost certainly a member — and perhaps even the leader—of a gang that committed robberies, it is unlikely that the elderly Allen was involved in any raids. What is certain is that the two men's deaths sparked North Carolina's famous Lowry War, a seven-year period of raids, robberies, and murders." [Jenny McElroy, "March 1865 — Executions Spark the Lowry War," This Month in North Carolina History, March 2008.]
The gang was indeed a kind of Robin Hood band, only they were not interested in helping the poor, freedom, or helping their neighbors. They were motivated by jealousy, and "the riches of their more affluent neighbors became too tempting for four of Allen Lowry's sons…"
They were not freedom fighters, but as I understand it, gangsters who wanted to "Get Rich, or Die Try'n." Kind of the 50 Cent of their time. They were, at their core, outlaws bent on revenge and plunder. However, the HC has decided to use their interesting and sensational story as a narrative device.
Tell us about history, show us dramatic recreations, just do it honestly. Just because the idea of the Lowry Gang being freedom fighters who steal from the evil racists Whites and give to the minority poor makes us feel better, does not mean it is a license to make fiction. There is plenty of examples of terror and terrorism by Whites, as properly shown in the HC's handling of the Ku Klux Klan in Tennessee and Arkansas. Stick to the facts HC, and stop sensationalizing history, stop Hollywoodizing your productions. You might lose some viewers who want HISTORY!