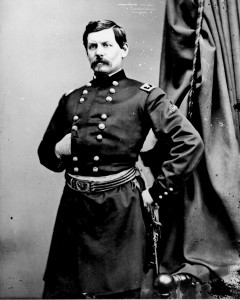 I guess I am implying that some see him as not a "Disaster" and I think that to be the case, he has defenders does he not?
I am in the middle of a course on American Civil War Command and Leadership, and specifically the Joseph T. Glatthaar book Partners In Command. Glatthaar's assessment of McClellan is scathing, but then again most are. I know that maybe Dimitri and some others might object, but how on God's green (er, brown) earth can anyone say that McClellan was not a mitigated disaster and extended the war by perhaps as a long as a year and cost the country so many more lives?
I am obviously not a historian (though I hope I am in training) and am very aware of this. So I understand that I still have more to learn about McClellan.
So for now, lets look at what I know:
His habitual inclination of paralysis by over-analysis… to say the least. During his Seven Days Campaign and his Antietam debacle in particular.
His arrogance and temperance that did not allow him to work with both those above and below him. In specific, his contemptible behavior towards Pope and his refusal to reinforce during the Second Bull Run defeat.
But perhaps most significantly, it certainly appears he was a man who had never really experienced defeat or failure and the thought of it caused him much delay.
Yes, very general statements.
It seems there were very real opportunities to take the war to Richmond in 1862, and perhaps decimate Lee and his army at Antietam, yet McClellan was not able to do so.
So, I ask you, where am I getting this wrong?