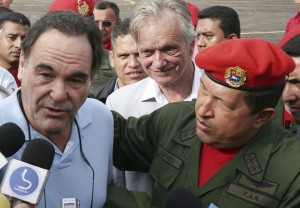 There were a slew of news stories last week that specifically mentioned that Stone worked with two unnamed historians for his up-coming documentary on Hitler and other mass murders in an attempt to give us "empathy" for them and "provide" us with historical context to their rise to power. According to hundreds of news articles:
"…two historians are helping him [Stone] with [the doc]… to offer a fuller understanding of the 20th century…"
Stone's message, "Hitler [was] enabled by Western bankers." This should be interesting to see what connections Stone attempts to make and what sources he uses, but most importantly who are the two historians? I searched, and searched, and could not find them.
What I do know about post-WWI American businesses is that they wanted Great Britain and France to ease the reparations and the United States to forgive war payments in an attempt to protect their investments in Europe and Germany.
Now what Stone will attempt to establish is that it was not monetary interests alone, but more importantly racist, Jew hating capitalists somehow facilitated Hitler's rise…
So who are Stone's historians that apparently will provide him with the proper historical data?
Stay tuned.
[the photo is of our guy Stone and one of his heroes, Hugo Chavez. Need we say more?]