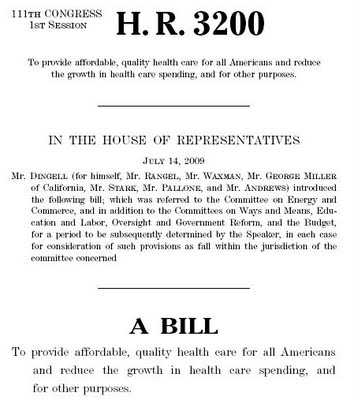 Both Republicans and Democrats have used it. I understand the argument that the Health Care bill is the largest of its kind: 1/6 of the economy. But there is historical precedent to support the so-called "nuclear option." Reconciliation has been used and has so in fairly similar ways, just not with such a big and important bill.
My only comment at this time, for a President and current Congress that promised to be the most "transparent" and "ethical" in history, it seems the difficult and more honorable path would be to buck the trend. To stand up and acknowledge minority rights and to honor the constitution, as has clearly not been done – that would have been what this administration promised.
Congress is broken and has been for some time. We The People must consider insisting that our politicians begin to honor the constitution. The Republicans have used this option to lower taxes and do things that Democrats cried foul over, just as Republicans are now doing. Both have been wrong. We need change, real change.
Here is a look at reconciliation's controversial history:
Dec. 5, 1980 | Though reconciliation was established during the Ford administration as a means to keep spending in check, it went unused until the final days of the Carter presidency. As one of his last acts in office, President Jimmy Carter signed the Omnibus Reconciliation Act of 1980, designed to slim the budget deficit through revisions to a range of entitlement programs.

Aug. 13, 1981 | The Omnibus Reconciliation Act of 1981, passed by a Republican Senate, cut $130 billion from several discretionary programs, including welfare and food stamps.

Sept. 3, 1982 | A Republican Senate approves the Tax Equity and Fiscal Responsibility Act of 1982, which first opened Medicare to HMOs.

Sept. 8, 1982 | For the second time in less than a week, Congress uses reconciliation to pass a $13 billion bill amending the food stamp program, the federal employee pay program and farm subsidies.

April 18, 1984 | The Omnibus Reconciliation Act of 1983, approved by a Republican Senate, was a deficit-reduction measure that made changes to the annual cost-of-living adjustments to the retirement accounts of federal employees.

April 7, 1986 | A Republican Senate passes the Consolidated Omnibus Budget Reconciliation Act of 1985, otherwise known as COBRA. The act allows laid-off workers to keep their health care coverage.

Oct. 21, 1986 | The Omnibus Budget Reconciliation Act of 1986 cuts $17 billion from the nation's deficit through changes to Medicare and the sale of the government's stake in the Consolidated Rail Corp.

Dec. 22, 1987 | Democrats, back in control of the Senate, pass the Omnibus Budget Reconciliation Act of 1987 establishing federal standards for nursing homes under Medicare. The measure also expands Medicaid eligibility.

Dec. 19, 1989 | Democrats approve the Omnibus Budget Reconciliation Act of 1989, stripping $39 billion from the deficit while overhauling doctor payments for Medicare.

Nov. 5, 1990 | President George H.W. Bush signs a Democratic measure, the Omnibus Budget Reconciliation Act of 1990; In addition to establishing pay-as-you-go rules for federal spending, the bill also implemented tax increases and added cancer screenings to Medicare.

Aug. 10, 1993 | Democrats, in control of Congress and the White House, pass the Omnibus Reconciliation Act of 1993. It cuts $504.8 billion from the budget while creating new tax rates for businesses and individuals and also establishing federal vaccine funding for children.

Dec. 6, 1995 | Republicans, back in control of Congress, pass the Balanced Budget Act of 1995 through reconciliation. President Clinton vetoes the measure.

Aug. 22, 1996 | President Clinton's welfare reform bill is passed by a Republican-controlled Congress through reconciliation. The bill separates Medicaid from welfare for the first time.

Aug. 5, 1997 | Republicans use reconciliation to pass President Clinton's Balanced Budget Act of 1997. Besides setting the U.S. on the path to a balanced budget, the bill created the Children's Health Insurance Program. The same day, a tax-cutting measure is also passed through reconciliation.

Sept. 23, 1999 | President Clinton vetoes Republicans' Taxpayer Refund and Relief Act of 1999.

Aug. 5, 2000 | Republicans in Congress pass the Marriage Tax Relief Reconciliation Act of 2000, which President Clinton vetoes.

June 7, 2001 | A day after his party loses control of the Senate, President George W. Bush signs the Economic Growth and Tax Relief Reconciliation Act of 2001, his first major tax cut.

May 28, 2003 | President Bush, with Republicans back in control of Congress, signs the Jobs and Growth Tax Relief Act of 2003, his second round of tax cuts.

Feb. 8, 2006 | After Republicans use reconciliation for the third time in his presidency, President Bush signs the Deficit Reduction Act of 2005; the bill cuts spending on Medicare and Medicaid.

May 17, 2006 | President Bush signs an extension of his earlier tax cuts approved by a Republican Congress in the Tax Increase Prevention and Reconciliation Act of 2005.

Sept. 27, 2007 | Democrats, in control of Congress once again, use reconciliation to pass the College Cost Reduction and Access Act of 2007. President Bush signs the $20 billion reform of student aid.

Sources:

* The Brookings Institution
* The Library of Congress' THOMAS
* Congressional Research Service