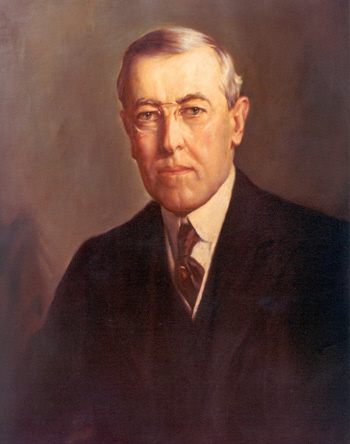 The 28th President of the United States Woodrow Wilson is sometimes remembered for his, frankly, visionary Fourteen Points at the end of WWI, and for his support and promotion of the League of Nations. What has come to light by some recent analysis are his progressive policies and his deep racist actions and assumptions.
Interestingly enough, the WhiteHouse.gov site even describes Wilson at one point in his career as, " a conservative young professor of political science and became president of Princeton in 1902." While I have read several books that have taken exception to that identification, I don't necessarily disagree that in some regards Wilson, like Teddy Roosevelt, could be called conservative in some policies, especially those involving foreign policy.
We throw around the labels of "Progressive," "Liberal," "Conservative," ect when the meaning of those ideologies has literally changed from generation to generation. But I digress… back to Wilson.
I am not a huge Wilson fan and for numerous reasons: Progressive (big government), racist (rabid), and in 1918 the Sedition Act allowed him to imprison political opponents, something FDR would learn from and do as well. Wilson arrived at the White House after winning the election of 1912 and removed all of the colored (black) staff in the White House. He would embraced D.W. Griffith's "A Birth of a Nation," which of course is known for it promotion of the Ku Klux Klan as the savior of the post-South, threatened after the war by carpetbagging Republicans and freedmen. Not to mention his support of segregation in the military. The list against Wilson could go on frankly.
So thus, I have a professor who is progressive and considers Wilson in a far more favorable light than I. What to do? I suspect I will keep my bloody mouth shut…