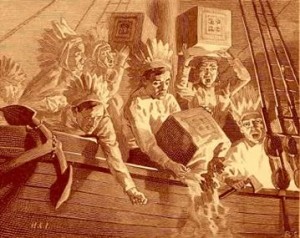 Historian Ray Raphael has a very interesting article in the recent issue of American History Magazine. He argues that the tea party is filled with "myths" that have carried on to our present day. I though it fit to post it here since we have a modern "tea party" movement. Furthermore, I admit that I was, until now, one of those Americans who had always believed that the event was seen as a patriotic event by the Founding Fathers. But as Raphael states:
Revolutionary-era Americans, though, didn't celebrate the event. This might seem strange, since the patriots were the celebrating sort. They staged festive ceremonies to commemorate anniversaries—the first Stamp Act protest, the act's repeal, the Boston Massacre, the Declaration of Independence—but the "action against tea" or the "destruction of the tea" (as they variously called it) went unher­alded in public ritual. For a half century, Americans shunned the tale, and certainly did not call it a tea party. At first, they didn't dare. Anyone who had anything to do with the event could face prosecution, or at least a lawsuit. Privately, some people knew who was behind those Indian disguises, but publicly, nobody said a word. Moreover, many patriots viewed the destruction of tea as an act of vandalism that put the Revolution in a bad light. Patriots also downplayed the tea action because of its devastating impact. That single act precipitated harsh retaliation from the British, which in turn led to a long and ugly war.

The Boston Tea Party is now an iconic event suffused with myth, but below the surface is the story of a true act of revolution, carried out in a context of power politics, with surprising parallels in the modern era.
His three myths about the event are:
The dispute was about higher taxes.
Tea taxes were an onerous burden on ordinary Americans.
Dumping British tea unified the patriots.
Do you agree or disagree with Raphael's argument?