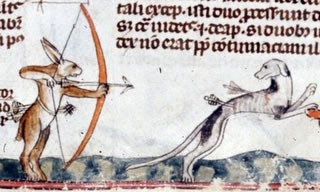 The Guide To Online Schools, which is an online education directory that specializes in online degrees, online schools, and distance learning, picked Blog4history.com as one of its 100 Best History Blogs.
From the publisher:
Reading about history on encyclopedia-type sites can be a drag. The information is completely static, and new research and discoveries take time to make their way into the text. History blogs, on the other hand, recognize that history is a dynamic field: they update frequently and find new and interesting ways to interpret old information. Here you will find a list of the best historical blogs out there, organized by both time period and region.
The list for United States History:
United States History
* Religion in American History: A group blog written by two academics and various guest bloggers, this site discusses issues of religion in America. From the founding and colonization to current issues, no (religious) stone is left unturned.
* U.S. History Blog: General U.S. history makes up this blog. Other media concerning American history are aggregated here.
* Historian: Written by a professor of history at the University of Colorado, this fun blog explores history and sexual politics in America, from 1492-present. She discusses LGBT issues, current research, pop culture, and more.
* Boston 1775: J.L. Bell writes this blog about Boston in the time leading up to the American revolution.
* Native America, Discovered and Conquered: The Lewis and Clark law school library maintains this great blog about what happened to Natives of America during the country's "discovery."
* Naval History Blog: If you're interested in military history, this is the place to go. Maintained by the U.S. Naval Institute, this blog has lots of guest bloggers and multimedia content.
* Civil War History: This blog covers the period of history in the mid 19th century during the American Civil War.
* Blog 4 History: This aesthetically pleasing page has great posts about happenings in U.S. history. There are also primary documents, such as diaries and letters, on the site.
* U.S. Intellectual History: This group blog has posts about the history of thought in America, and the intellectuals that have shaped American national identity.
* Western Americana: The American West is the historical focus of this blog. The fur trade, mining, ranching, cattle, and the frontier are covered.
* Explore Southern History: Cities in the Southern U.S. are highlighted on this blog. Natural wonders, forts, and archaeological sites are some of the subjects explored.