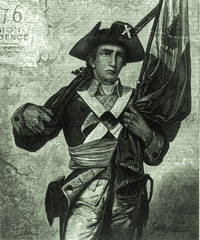 In my regular (general) United States History class when I asked if anyone knew why they were called "Minute-men," a student spoke up and declared, "Why that's cuz they only fought for about a minute before they ran." He was dead serious. Class erupted in laughter (they were not laughing at him, he laughed as well.) But this did lead me to talk about some myths.
Paul Revere's ride is another one that has several myths. According to some: "Paul Revere stopped at taverns along the way and was so drunk he fell off his horse at a tavern in Lexington and was captured by the British." In 1968 The Boston Globe published a story on Patriot's Day that Revere was drinking the night of his ride. However, historians such as David Hackett Fischer (Paul Revere's Ride) have successfully dispelled such myths.
"Listen my children, with attentive pause; To the midnight ride of William Dawes."
Now, a good class discussion piece might be to ask the students why did William Dawes get short changed in history for his efforts that night? Some will say Revere was simply a better promoter. Maybe, but Dawes contributes to his own dimise. As Fischer notes, Dawes made various mistakes during his ride and failed to alert the correct people in numerous towns. However, this still does not explain why Dawes has been forgotten, afterall he did alert a lot of people and made good such time he caught Revere in Lexington just after midnight.