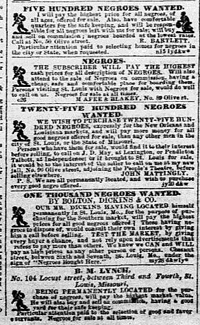 This past weekend in St. Louis a special Civil War Reenactment took place on the steps of the Old State House, only it was not your typical gun smoking affair. This time a group of historians and local residents reenacted what they called a "last slave sale."
From the article:
The site of the "auction," the Old Court House, has a long history related to the slave trade. It was the site of public auctions of all kinds of property at sheriff's sales, usually in the course of settling estates or enforcing court orders for damages stemming from lawsuits. The Old Court House was also the site of the first hearing of the infamous Dred Scott case.
The auction, as expected" drew some criticism. If you're interested here it is:
I think the intentions were good and the presentation effective.