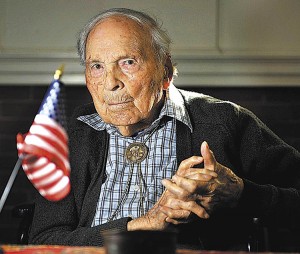 Frank Woodruff Buckles is our lone surviving WWI veteran and still going strong at 110 years of age.
A story in the May 30, 2010, edition of Parade magazine on Buckles said he lied about his age in 1917 when he was 16 so he could enlist. The Army sent him to France, where he drove ambulances and motorcycles. After the armistice, he helped return German prisoners of war to their country.

In 1941, he was working in Manila for the American President Line, a shipping company. When the Japanese invaded the Philippines during World War II, Buckles was captured and spent 3 1/2 years in a prisoner-of-war camp before he was rescued by American forces when they retook the Island nation.