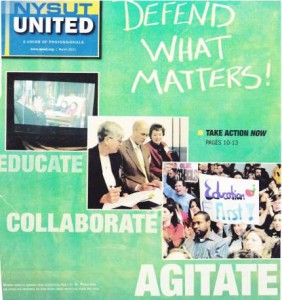 Had a reader point me to the NEA (National Education Association) website this morning. (As a public school teacher I can't tweet, blog, facebook, at all hours of the day unlike some on here! I have to teach 32+ students per class from 7:30 to 2:50, then it's coaching and after school activities. So sorry so late on this.) I digress!
I never thunk to visit the NEA and peruse their recommended reading lists for EDUCATORS, just never occurred to me that there would be anything there to suggest that SOME members of the NEA MIGHT be proponents of Social Justice and also teaching the doctrines of Saul Alinsky. Who is Alinsky you say? Well he "wrote the book on American radicalism." So why would the NEA have on their 2009 "Recommended Reading" one Saul Alinsky, and his Leftist classic: "The American Organizer"?
I know, it baffles many that this would even be an issue. The other two Recommended Readings: The Introvert Advantage and The Thin Book of Naming don't sound or look like Conservative Classics. Now if one of them was an extreme Right Wing book by say Newt Gingrich, Sean Hannity or, gasp, Glenn Beck, you could argue that the suggested readings have balance. I still would say none of these should be "Recommended Readings." I don't pull out Glenn Beck's Arguing with Idiots and spout from it or quote it! Have never purchased a book or read a book by any of the three. Yes, Mr. Levin, hard to imagine. (Note they do mention so-called "conservative radical" Michael Patrick Leahy's, Rules for Conservative Radicals. But in an off hand way and not as a recommended reading and good, sounds like more of the same, but from the Right. Don't want that either!)
But is the NEA asking SOME educators to do just the very thing with Alinsky? I wish we just had to deal with Social Justice proponents, this guy makes them look like boy scouts.
I know. No big deal. That this has nothing to do with what is going on in Wisconsin, Minnesota, Indiana, Michigan and maybe even to a city capital near you!, is naive at best.
All the NEA is asking of its members that they: "will discern from Alinsky's books grassroots organizing strategies that will best help us bring our members together around the common goal of improving public education." Sounds great, all for it! Yup, improving public education!
Let's take a look, shall we!
From the NEA website:
Alinsky, the master political agitator, tactical planner and social organizer didn't mince words…

"Liberals in their meetings utter bold works; they strut, grimace belligerently, and then issue a weasel-worded statement 'which has tremendous implications, if read between the lines.' They sit calmly, dispassionately, studying the issue; judging both sides; they sit and still sit.

"The Radical does not sit frozen by cold objectivity. He sees injustice and strikes at it with hot passion. He is a man of decision and action. There is a saying that the Liberal is one who walks out of the room when the argument turns into a fight.

"Society has good reason to fear the Radical. Every shaking advance of mankind toward equality and justice has come from the Radical. He hits, he hurts, he is dangerous. Conservative interests know that while Liberals are most adept at breaking their own necks with their tongues, Radicals are most adept at breaking the necks of Conservatives.

"Radicals precipitate the social crisis by action – by using power. Liberals may then timidly follow along or else, as in most cases, be swept forward along the course set by Radicals, but all because of forces unloosed by Radical action. They are forced to positive action only in spite of their desires …
"breaking the necks of Conservatives"… hmm.
Alinsky is an admitted radical who would absolutely support SOME teachers who blatantly left their jobs, lied about being sick, and encourage their students to "Agitate" with them. I know, I know, how could anyone have such a mindset!? Clearly I have issues. Clearly I am "disgraceful." They are just striking, er, protesting for their rights.
More from the NEA website:
Alinsky devised and proved thirteen tactical rules for use against opponents vastly superior in power and wealth.

1. "Power is not only what you have but what the enemy thinks you have.
2. "Never go outside the experience of your people.
3. "Wherever possible go outside of the experience of the enemy.
4. "Make the enemy live up to their own book of rules.
5. "Ridicule is man's most potent weapon.
6. "A good tactic is one that your people enjoy.
7. "A tactic that drags on too long becomes a drag.
8. "Keep the pressure on.
9. "The threat is usually more terrifying than the thing itself.
10. "Major premise for tactics is development of operations that will maintain constant pressure upon the opposition.
11. "If you push a negative hard and deep enough it will break through into its counterside.
12. "The price of a successful attack is a constructive alternative.
13. "Pick the target, freeze it, personalize it, and polarize it
For Alinsky it is about: "Agitate + Aggravate + Educate + Organize." Looks and sounds a lot like what I have seen on the news recently.
Great, just what we need to be recommending that our educators teach, or use or whatever it is SOME do with this great stuff!
LOTS OF QUESTIONS! Why does the NEA promote such a man and such a "radical" (their words not mine) ideology?
Look at the language in the above 13 tactical rules that the NEA is supporting: "Enemy", "ridicule", "pressure", "threat", "terrifying"!
Sounds like the new civility some people are talking about. This is not the reading that makes for better teachers or students. And is that even the goal here for SOME?
Do we want SOME (ALL, NONE?) OF our educators teaching… using…this?
Do we want SOME OF our teachers more concerned with activism than, I don't know, proper education?
COULD THIS be PART of the reason why our education system is failing? You tell me!
I know, I know, conspiracy theorist and hate monger…. this is all simply harmless.
Mr. Levin?