I've been doing a little research on Brigadier-General Gabriel J. Rains, a pyro-technician of sorts during the Civil War. Gabriel and his brother George Rains became known as the "bomb brothers." Together they developed torpedoes and subterra shells (landmines).
From a Civil War Times article on the brothers:
The South's first torpedoes were simple, powder-filled tin cans with trigger attachments. These offered little promise. But then Gabriel developed what came to be known as the "Rains Patent," a mine that could be used both on land and in water. These early torpedoes were made of sheet iron, and each had a fuse protected by a thin brass cap covered with a beeswax solution. If pressure were exerted on that cap, the torpedo would explode. Rains used these bombs with significant success both in the water and on the land. In the spring of 1862, while Gabriel was still leading a brigade, he turned his "Rains Patent" into the "sub-terra explosive shell," known today as a landmine. In May, during the Peninsula Campaign, the Union Army of the Potomac was pressuring Confederate forces retreating from Yorktown in the outskirts of Richmond, Virginia, the Confederate capital. Rains' brigade was part of the Rebel rearguard. Some of Rains' men found loaded 8- and 10-inch Columbiad artillery shells equipped with sensitive fuse primers in a broken-down ammunition wagon near Richmond. Rains planted these shells inches beneath the sand of Richmond's beaches "simply as a desperate effort to distance our men from pursuing Union cavalry," he explained. Suddenly a series of shells exploded beneath the hooves of Federal horses. Pandemonium erupted as many whole Union companies bolted in panic. They were the victims of the first land mines ever used in battle. Rains had originally buried four of them and was so impressed by the contusion they caused that he buried more. Their use around Richmond grew proportionately. Rains estimated that the approaches to Richmond were laced with more than 1,300 land mines by 1864, most of them operated by trip cords that could be pulled by hidden Confederates.
Landmines were universally hated and not just by Federal troops (and commanders). At Ft. Blakely, Alabama, (April 9, 1865) on the night of Lee's surrender the last significant battle of the Civil War took place. There hundreds (maybe thousands) of these mines had over the course of months been planted outside the Confederate works. The days leading up to the assault witnessed numerous explosions and by the time the Federals attacked, they wanted revenge. During the assault even more landmines went off.
Years before (1863) in response to Federal cavalry raids, Rains purposed that teams of landmine crews be formed in order to "put down and take up subterra shells when a raid of the enemy is out, expected, or retired."
The logic was simple in his mind: "A raid of cavalry must confine themselves to roads, and the details above mentioned can plant in each road subterra shells, perfectly harmless to citizens, until the enemy approach, when the shell can be primed in a moment for their reception. I am confident that if the enemy are once or twice blown up by these means, raids ever thereafter will be prevented." (Series 1, 28, Part II, p. 371)
What I can't discover is if Rains' plan was attempted? Does anyone know? I do know Confederate President Davis supported the proposal.
Landmines were already proven to be fairly effective and fit the South's defensive strategy at the time. For example, at Fort McAllister, Georgia, according to Sherman, "[landmines] killed more of our men than the heavy gun of the fort." However, no matter how effective the landmines were (especially psychologically) the underwater torpedo "may have been the South's most effective defensive weapon." (CWT)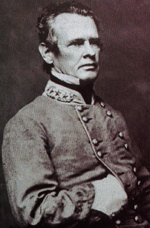 BIO: Gabriel J. Rains, the son of Gabriel M. Rains, graduated from West Point in 1827, assigned to the infantry, and served in garrison and against hostile Indians till the Mexican war. He was promoted to captain on 25 December, 1837, and brevetted major, 28 April, 1840, for gallantry in the action with the Seminoles near Fort King, Florida, where he routed a superior force, and was twice severely wounded.
He entered the Confederate army in 1861, commissioned colonel, and was at once given the task of building and equipping a powder-mill. This he did under great difficulties, and created at Augusta, Georgia, the Confederate powder-works, which were, at the close of the war, among the best in the world. He was promoted brigadier-general before 1865.
Rains saw action at Shiloh and Perrysville, and after the battle of Seven Pines, where he was wounded, he was highly commended by General Daniel H. Hill for a rapid and successful flank movement that turned the tide of battle in favor of the Confederates. He was then placed in charge of the conscript and torpedo bureaus at Richmond, organized the system of torpedoes that protected the harbors of Charleston, Savannah, Mobile, and other places, and invented a sub-terra shell, which was successfully used.
Since 1867 he has been professor of chemistry and pharmacy in the medical department of the University of Georgia, and he was dean of the faculty till 1884. General Rains has obtained three patents for improvements in steam portable en-tines. He has published a treatise on "Steam Portable Engines" (Newburg, New York, 1860) ; "Rudimentary Course of Analytical and Applied Chemistry" (Augusta, Georgia, 1872) ; "Chemical Qualitative Analysis" (New York, 1879); a pamphlet "History of the Confederate Powder-Works," which he read before the Confederate survivors' association (Augusta, 1882), and numerous essays.