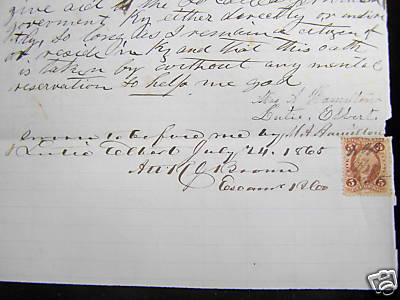 I spend too much time on ebay, and of late youtube (which is obvious). But it does pay off. I just found this oath for teachers from Kentucky (1864) on ebay, and thought it interesting enough to share:
Teachers Oath

I do Solemly Swear that I will Support the Constitution of the United States and the Constitution of Ky and be true and faithful to the commonwealth so long as I remain a citizen thereof. That I recognize the binding obligation of the Constitution of the United States and the duty of every citizen to submit thereto as the Supreme Law of the land, that I will not give aid to the rebellion against the Government of the United States nor give aid to the so call Provincial government Ky either directly or indirectly, so long as I remain a citizen of or reside in Ky and that this Oath is taken by without any mental reservation So Help Me God
Signed by 2 witnesses and dated July 14 1864.

Several things, I have never seen such a document, though it does not surprise me. I see a date of 1864, have to consider the status of Kentucky (a key border state), and the necessity of such an "oath." I can't make out the location in Kentucky. Was this type of oath common?  Why was it necessary at this time and at this location? Also, what it's asking of the teacher tells us something, does it not? Lots of questions here… Looking forward to hopefully some input from you?