Due to the amount of books that I have coming this will have to be a regular thing.
First up, Retribution: The Battle for Japan, 1944-45, by Max Hastings, March 2008, New York, Random House Inc. 656pp. $35.00 978-0-307-26351-3. This was a review that needed to happen sooner, but, just didn't. I have just finished Retribution and it is one of the better WW2 Pacific Theater titles I have ever seen. Hastings takes a stand on some controversial issues such as the bombing of Japan, and not just the use of nuclear weapons. He criticizes everyone from Douglas MacArthur, to the leadership of Japan that was the source of so much suffering. Hastings pulls no punches, calls a spade a spade, and holds Japan accountable for its demise. But he does not ignore U.S. transgressions and mistakes, this is not a "political" history book. I feel every teacher who wants to tell an honest and balanced story about the war in the Pacific should read this book.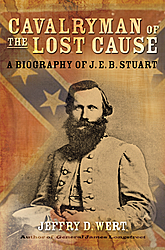 Cavalryman of the Lost Cause, A Biography of J. E. B. Stuart, by Jeffry D. Wert. Simon & Schuster, September 2008, 512 pp. $32.00 0-7432-7819-4. Wert provides new details about Stuart's childhood and youth, and he draws on letters and other correspondences. This biography is being haled as one of the best on J.E.B. Stuart and rightfully so. Stuart was eager for glory, daring sometimes to the point of recklessness, but a devoted and loving husband and father. Stuart has long been regarded as the finest Confederate cavalryman and one of the best this country has ever produced. Wert shows how Stuart's friendship with Stonewall Jackson and his relationship with Lee were crucial; at the same time Stuart's relationships with his subordinates were complicated and sometimes troubled. Highly recommended.

I have also received Abraham Lincoln, by James M. McPherson from Oxford University Press, it is less than 100 pages and would be a nice primer for first time Lincoln readers. Not sure what else to say, it is puzzling why it was produced as it adds nothing to the subject.
I am in the middle of reading two excellent books:

Those Damned Blackhats! The Iron Brigade in the Gettysburg Campaign, by Lance J. Herdegen. Savas Beatie, 368 pp, $32.95 978-1-932714-48-7. It was just  published in October. I am half-way through it and am thoroughly enjoying it. This just might be Herdegen's best book and I have read them all. Anyway, more on this excellent and quality publication later.

Also, George Thomas Virginian for the Union, Christopher J. Einolf. University of Oklahoma Press, 416 pp, 20.97 (on sale) 978-0-8061-3867-1. This book was published last year and the kind folks at U of O Press were kind enough to send me a copy. It looks excellent and I cannot wait to read it!
That is all for now!