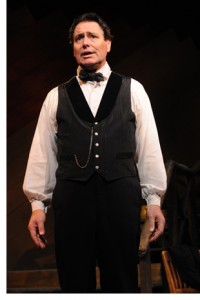 I live in Whittier, Ca., which is a suburb of Los Angeles. But next week, joined by my lovely wife, we will be driving to San Diego to see a play based on the Lincoln Douglas Debates at the Lamb's Player Theater. The play, The Rivlary, is a three actor stage play that include the characters of Abraham Lincoln, Stephen A. Douglas, and Adele Douglas.  
Having studied under a Lincoln scholar at CSUF, I'm always eager to attend anything that has to do with Lincoln and the Civil War; indeed, that is one reason I chose the era as my area of specialty. Furthermore, out here in the West trying to find anything Civil War or Lincoln to see is like trying to find water in the Mojave Desert.
The tickets are cheap, and it looks to be a good time. As a historian, and even more, as a Lincoln historian, I no doubt will find mistakes, and hopefully like a film based on historical events, I will not judge it so harshly. I'm also not a big fan of "theater," but I think the subject is better suited for people like myself.
Anyhow, if you're in California and perhaps would like to see it with us, e-mail me aayepiz@yahoo.com.
Best Wishes,
Alex