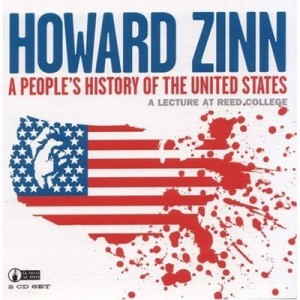 FBI "File No. 100-360217 was begun in March 1949 in response to an order from FBI director J. Edgar Hoover to Edward Scheidt, special agent in charge of the Bureau's New York office. Zinn's name had previously surfaced in connection with other FBI investigations of Communist Party activities, but a new report from an unnamed agent marked Zinn as a subject of special interest."
I could not care less that Howard Zinn was a communist. However, there are interesting questions and his ties do inform us of the political and ideological views of the social justice movement which Zinn is a founding father of.
From the report:
According to the FBI, this informant gave the agency a photo of Zinn teaching his 1951 "basic Marxism" class to fellow CPUSA members in Brooklyn. That photo wasn't included in the documents released last week, but details of the 1957 report are certainly intriguing. In the late 1940s, Zinn lived at 926 LaFayette Avenue (not "street") in Brooklyn. George Kirschner (not "Kirshner") was a union official at a Brooklyn brewery who, decades later, became a teacher and collaborated with Zinn on a 1995 wall-chart version of A People's History of the United States. The informant's account indicates that the association between Zinn and Kirschner (who died in 2008) began in the Communist Party in the late 1940s. Like Zinn, Kirschner was a World War II veteran, and they could have met through the Communist-infiltrated American Veterans Committee, in which Zinn was a ranking local official.

Given this further corroboration of Zinn's CPUSA activities from a former comrade, the FBI evidently concluded that Zinn's denials of party membership were lies. By 1964 — at which time Zinn was publicly denouncing Attorney General Robert F. Kennedy for allegedly being reluctant to protect civil-rights protesters — J. Edgar Hoover described Zinn as having "a background of known membership in the Communist Party." While Zinn's CPUSA membership seems to have lapsed in the early 1950s, Hoover noted that the professor "has continued to demonstrate procommunist and anti-United States sympathies," including outspoken support for Fidel Castro's Cuba.

Zinn was still a relatively obscure academic in 1964, but he gained national prominence for his subsequent anti-Vietnam War activism, leading "teach-ins" at Harvard, MIT, and other campuses, and traveling to Hanoi in 1968 with radical priest Daniel Berrigan. It was not until 1980 that Zinn published A People's History of the United States, which gained pop-culture fame after Ben Affleck and Matt Damon featured it in their 1997 film Good Will Hunting. Zinn later became a prominent critic of the Bush administration's foreign policy and, not long before his death in January, was lionized in a documentary called The People Speak, co-produced by Damon and starring Danny Glover, Sean Penn, and other luminaries of the Hollywood Left.

Zinn's 21st-century influence takes on a new aspect in light of the FBI's revelation of his Communist Party activities. Anyone might have innocently joined a Communist "front" group — indeed, during his New Deal years as a self-described "hemophiliac liberal," Ronald Reagan had naively joined two such groups. But Zinn was implicated as a member of multiple Communist fronts and, tellingly, was a local officer of the American Veterans Committee at the very time when that group was identified as having been taken over by Communists. Given the preponderance of evidence, it is difficult to dispute J. Edgar Hoover's conclusion that Zinn was no mere sympathizer or "fellow traveler," but was indeed an active CPUSA member in the late 1940s and early '50s.

The timing of Zinn's Communist involvement is also important. Many well-meaning liberals had been drawn into the CPUSA during the "Popular Front" era of the 1930s, when America was menaced by the Great Depression at home and the rising specter of fascism abroad. Misleading press accounts of the Soviet Union's "progress" during those years helped convinced many idealists that the Bolshevik Revolution represented a hopeful future.

By the late 1940s, however, those illusions had been shattered by the reality of Josef Stalin's brutal totalitarianism. Stalin's cynical 1939 treaty with Hitler — the Molotov-Ribbentrop Pact — had sacrificed Poland to the Nazis, and the Red Army's post-war occupation of Eastern Europe had crushed all democratic resistance. Even as Zinn's wife was collecting signatures on Communist petitions in New York, Winston Churchill was decrying the "Iron Curtain" that had descended across Europe. The Communist Party that Zinn joined was already widely recognized as the agent of an aggressive tyranny, in thrall to the paranoid dictator Stalin. Zinn evidently pursued his CPUSA activism even after the Soviets exploded their first atomic weapon in 1949 and after the Cold War turned hot with the June 1950 outbreak of the Korean War.