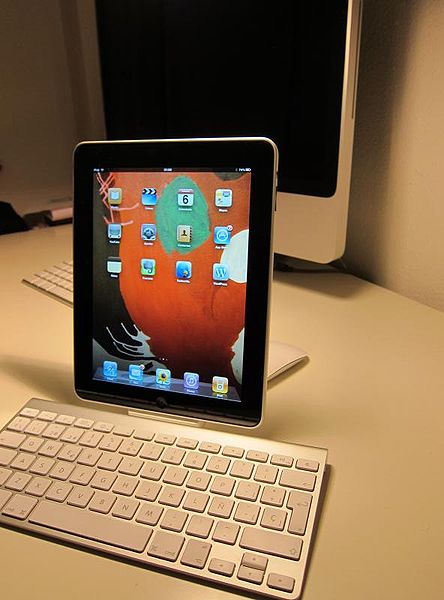 I purchased my iPad in June and spent the summer playing with it and have come to the conclusion that it can revolutionize the classroom and at the very least, the student experience within the educational system. I did not anticipate such a revelation. I wanted it for simple functions such as internet at night while in bed and not wanting to grab my laptop, and some other cool apps. But what I am seeing is that the iPad is a nice device for reading books (which shocked me as I never thought I would say that as I am a traditionalist and love paper and cloth). I say stop printing textbooks and require students to purchase an iPad. At $499 for a 16 gig WiFi iPad (which is plenty) it saves money and trees. Students from High School to College will in the long run save money and save their shoulders from lugging around a backpack of books.
Here are my favorite apps for Teachers and Students of History:
1. Dropbox – allows me to share documents, files, PDFs, powerpoints, from my home office computer, home laptop, school computer and iPad. Simply fantastic and helps me stay organized.
2. WinAdmin – this app allows me to remotely access my PC laptop at home or at school from my iPad. So I can run a powerpoint from my iPad while lecturing. Very cool.
3. Quick Office HD – a mini-office suite that allows me to edit Word files that I can easily store and send via dropbox.
4. U.S. History Quiz (McGraw Hill) AP flash cards. A nice and affordable set of flashcards that I can use via my WinAdmin and project using my PC computer from the iPad.
5. GoodReader – allows me to view any type of document from a PDF to a powerpoint.
6. Inkling – is the first generation of iPad textbooks with a growing list of college and AP level text books that students can purchase and download. They can download just a chapter or an entire textbook.
7. Kindle (for iPad) – I love reading books on Kindle. I can highlight sections, get a quick definition by simply tapping the word, and go directly to an Internet search. I can leave bookmarks and notes. Great device for teaching and reading.
8. Desktop – allows for iPad multi-tasking which is a downsize, but the iPad is not about replacing the laptop computer.
9. Historical Docs – there are dozens of apps that allow teachers to have at their fingertips, via the iPad, important historical documents.
10. WordPress – this app allows for me to quickly get into and out of a wordpress blog and there are numerous that are helpful as a teacher.
I will have more on technology and specifically the iPad.