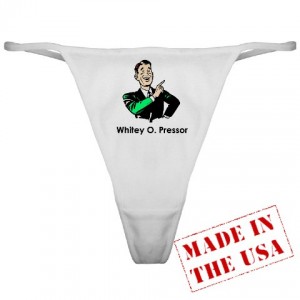 Ever wonder what you can purchase in a store dedicated to "Social Justice"? Let's take a look!
There's actually some really nice things that you can purchase:
"The medieval feminist," Joan of Arc. T-shirt, coffee mug, water jug, lots of goodies with that symbol.
You can also find t-shirts and other stuff with the slogan. "Diversity Rocks! Show your appreciation for diversity, equity, and justice!" Agree, diversity does indeed rock!
How about these (and remember this is a store for Educators and Activists! Maybe someone who is teaching your child some good ole Social Justice!!)

Old Boys Network
Meet Harry Slickman of the Old Boys Network. What a Jackass!

(You can get the following with this stereotype slogan, you know, all those rich white people, like myself, who are keeping everyone else down.)

Hats, Mugs, t-shirts, ect..

(But wait, there's more: Infant outfits, bibs, boxer shorts, underwear, doggy t-shirt, mouse pads, coasters, and even a pillow. So you can go to sleep and dream about Mean Old Whitey!)

White Supremacy Sucks
White supremacy really does suck. White supremacy is white privilege is racism.

Kill Imperialism
Don't kill people. Kill imperialism and advocate human rights.

Revolute!
If you care for social justice and peace, help foment revolution!

Got Revolution?
Black T-shirts with a variety of "got _____?" statments (their mis-spelling): got diversity? got peace? got justice? got feminism?

Outraged!
Pay attention! See racism, sexism, poverty, homophobia. And do something! (If you're not outraged then you're not paying attention!)

Karl Marx, defender of the working class. (That's right, he's a good guy!)
and my personal favorite:
Whitey O. Pressor Thong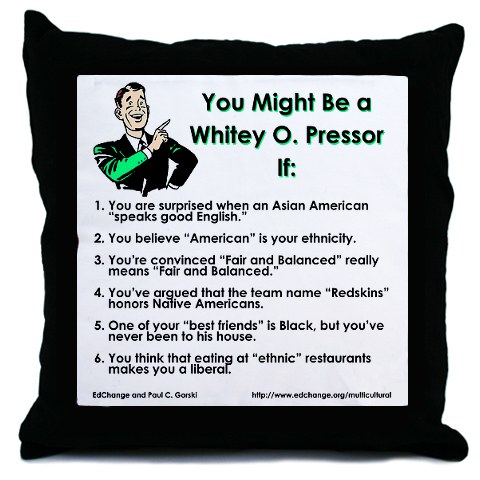 (Image at top featured) Whitey is an anti- anti-racism advocate. I know, that doesn't make sense. Make sure to see the back of the items for Whitey's "You may be a White O. Pressor If…" list! (Just $23.99)!
Very catchy!! However, my main question here is, what does the Feminist think of such an item!? Are you a "Whitey"? Check out the image to the right and find out!
Anyway, Maybe that's me, "Whitey O. Pressor." Gonna get my Whitey on and purchase one for my Woman locked up in my house making my dinner!