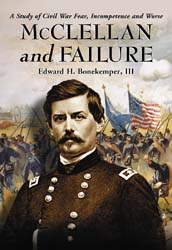 McClellan and Failure: A Study of Civil War Fear, Incompetence and Worse
Edward H. Bonekemper, III
ISBN 978-0-7864-2894-6
photos, maps, appendix, notes, bibliography, index
222pp. hardcover (7 x 10) 2007
McFarland
Edward H. Bonekemper's scathing depiction of the contemptuous Civil War record of George B. McClellan is a wonderfully flawed piece of historical narration.
What I mean by flawed is that Bonekemper did not set out to write a fair or balanced account of McClellan's performance, but instead had an agenda that he openly confesses to: "I believe McClellan as the worst Union Civil War general and provide readers with information to justify that position in these pages," he proclaims in the first page of his "Introduction."
Bonekemper then systematically exposes event after event in a ruthless and divisive tone that I absolutely loved. As I, for one, completely agree with his purpose and his presentation. Which is exactly why a historian such as Bonekemper, and others, should not be evaluating McClellan. At least not without something to balance their work.
There was no attempt at a balanced presentation that sought to understand the flawed mind of George B. McClellan. A man, who clearly was not just acting from arrogance and selfishness, but was also with severe psychological issues that I will not attempt to diagnose. In his own world, the enemy was always more superior to a point where it was debilitating for him to even act or be in a position to act once the fighting started. To completely understand McClellan and his motivations, which was another aspect of Bonekemper's scholarship, you have to recognize and appreciate that for McClellan to act at all, was extremely difficult. So when he did act, though painfully slowly, such as at Antietam when he knew he had the upper-hand, it was remarkable that he did with any vigor at all. Though he had Lee's battle plan in his hands, he still was confounded with an inferiority complex that to even attempt a decisive blow was unfathomable. McClellan created a fictional world within his own mind that justified and supported his pathological behavior. It oozes from all of his letters written to his wife. She even at one point calls him on it. All this, Bonekemper does not give much credence or attempt to investigate with any open mindedness.
But what a read this was. Oh how I loved it. If there was a shred of doubt as to who the most incompetent human being on the face of earth in 1861-62, this book would sell you to it being George B. McClellan. But yet I could not help but wonder about the many apparent facets of McClellan's behavior. Was he just incompetent or was he subconsciously trying to sabotage the North's war effort because of his sympathy for the South? Look at all the people he undermined and destroyed… it's not hard to imagine.
It is hard to imagine any historian (apologist) defending McClellan much. What I seek is not protection, but understanding. What I learned in this book I already knew. If there was a more conflicted and complex mind during the Civil War than George B. McClellan, I would like to know who it was?
This book also brought other questions to my mind and some had little to do with McClellan. Where's the criticism of Lincoln? My God, how long do you have to put up with someone before you act? Also, Robert E. Lee, his Seven Days' Battle against McClellan kind of set him up on a pedestal for the rest of the war. Though it was a campaign that in all likelihood would have failed, utterly, and resulted in his defeat and the capture of Richmond had there been a competent Union commander in charge.
Does the fact that Lee benefits for 2 years from such incompetence on the part of Union generalship degrade his success? (I'm sure it has been argued.)
Bonekemper also includes an Appendix covering what historians have written about McClellan. I am not an expert, but appears that he covers it well and does a fine job establishing his overall argument, albeit not hard to do, and proves his thesis. McClellan was incompetent, self-indulgent, self-centered, and afraid to fail. But did this book give us any true insight into the workings of McClellan's mind? No. Was that its intention? No, but to be a unique book on what is a popular topic, that might have been a better aim.
———–
I have two more books from McFarland that I am reading:
The 149th Pennsylvania Volunteer Infantry Unit in the Civil War, by Richard E. Matthews that is so far a good solid read concerning a regiment that saw severe service in the Eastern Theater.
The Civil War in Tennessee, 1862–1863, by Jack H. Lepa which is also going well and will probably end up making my top 20 books, Western Theater of the Civil War.