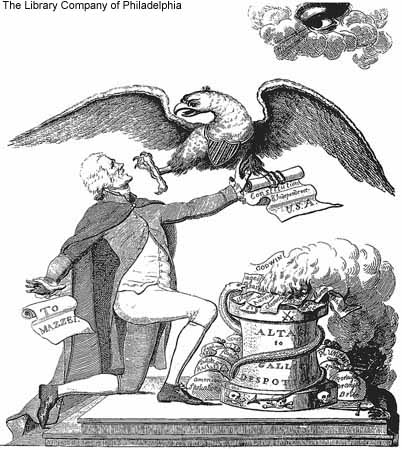 David Sehat has an interesting commentary over at the CS Monitor concerning today's Tea Party and the U.S. Constitution.
 The Federalists wanted a strong central government that could correct the shortcomings of the Articles of Confederation. Men such as Alexander Hamilton sought a powerful central force that could control inter-state commerce and assert direct taxes, something that today's Tea Party members would certainly have an issue with.
The states-rights, neo-secessionist, small-government ideologues who seem to have taken over the Republican Party might have a coherent political philosophy. But their views align less with the constitutional framers than with their opponents, the Antifederalists.
Those Tea Party members that understand our history, and in particular the Constitutional debate that followed the Convention, would undoubtedly be Antifederalists. Thomas Jefferson is more of a reflection of Today's Conservatives and especially the Tea Party than is Alexander Hamilton.
My only concern is those who think that the Tea Party participants should be Federalists at heart. Seems they are the ones who are misconstruing history. Today's Democratic/Left wants a stronger Federal government.